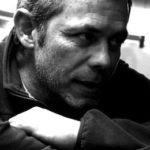 DANIEL GUILLOTIN, FROM GRAPHIC DESIGN TO OBJECT DESIGN
A classical training in fine arts graphic design has allowed me to live for many years alongside signs, images, texts, shapes, colors and materials, all of which have become good friends. Graphic designer and artistic director for thirty years …. In two dimensions.
I missed the third dimension.
The volume, the work of the material, the collaboration with Pierre Bretonnet, trusted craftsman and partner. To compose with the technical constraints, to turn around the object and to make exist all its faces. Learn again.
Between the sculpture and the object, always attracted by the sobriety of the drawing and the limited series which provoke the creation.
Daniel Guillotin
Creation of original and custom design objects.